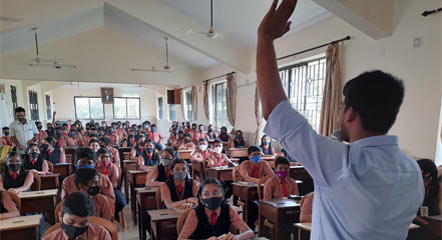 IDEATION
Ideation is the sub event which kick started SSTH 2021 This event where we addressed students from more than 100 schools and colleges in Karnataka and raise their understanding of what problem-solving looks like and how to identify problems so they can develop excellent projects.
The Sustainable Development Goals (SDG) discussion topic helped the developing innovators consider the issues they encounter on a daily basis and come up with a sustainable solution. The SDGs are a collection of 17 interconnected global goals intended to be a "shared blueprint for peace and prosperity for people and the planet, now and into the future.
These sub-events started in November with the main objective of interacting with different schools and institutions in different districts across the state to spread information about the event, inspire students to address regional problems through events like SSTH, and market SSTH to students and encourage them to take part in and help them in building projects that address regional problems.
The period of ideation spanned from November 8 until December 11. We reached 5043 students from 48 schools and 78 institutions throughout that time.
Registrations and Bootcamps marked the transition to the following level. Beginning on November 16 and continuing through December 2021, registrations totaled more than 500.
Students are introduced to creating prototypes utilising current tools in bootcamps. Additionally familiarises the process of providing workable answers for the issue through study and critical thought. Their main focus is on instructing students in design thinking and idea presentation.