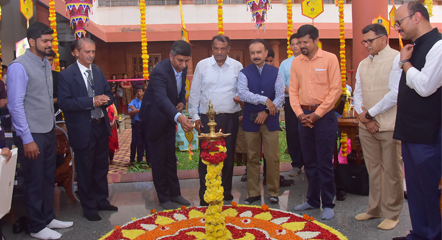 Inaugration
The Government of India has felt the need to initiate and enhance student interest in Science & Technology. IITs and IISc began organizing Science Conclaves every year to create awareness and interest among the students. However, organizing such a challenging event is a strenuous affair due to a high magnitude of institutions in the state. Therefore, Sahyadri College of Engineering & Management feels that it is its responsibility to take this up as an initiative and started Sahyadri Science Talent Hunt – SSTH, to encourage students to take up projects and give life to their ideas.
The main objective of SSTH was to promote the idea of start-ups amongst the youth, from kids as young as 12 years to graduates. It is an attempt to make students walk past the conventional idea of Engineering, that is to study close to 46 subjects, write about a 100 exams and then graduate with barely any soft skills or prerequisite knowledge required in the world of professionals.
Even when the lockdown hit us in 2020 it didn't put a stop to SSTH, we still discovered many young science talents with 'Innovate from home'. The Innovate from Home concept was designed with the intention of providing resources and guidance to students in order for the pandemic to not hinder their ability to solve community problems with fun and lots of learning.
Students were put in a position where they could empathize with real-world problems by understanding the current scenario across various sectors, industries, and stakeholders through ideation sessions centered on the concept of Design Thinking This not only allowed the bright minds to solve a problem but also enabled them to make an impact. That could benefit the sustainable development goals.